Bose QuietComfort Noise Cancelling Earbuds – True Wireless Earphones, the World's Most Effective Noise Cancelling Earbuds.
Bose QuietComfort Earbuds
The world's most effective noise cancelling earbuds.
These sleek wireless earbuds are designed with breakthrough acoustic innovations and Bose Acoustic Noise Cancelling technology. Together, they produce crisp, clear audio and rich, deep bass over a bed of virtual silence — so you can hear all kinds of details that typically get lost.
A powerful charging case
This rugged case is designed to travel with you all day long. Its magnetized interior keeps the wireless earbuds securely in place while they charge, and its battery can recharge the earbuds with up to an additional 12 hours of playback time. To charge the case, use the included cable or a Qi-certified wireless charging mat (not included).
The exterior LED lights show the battery status of your charging case. And the instant you open the lid, the earbuds begin pairing with your device.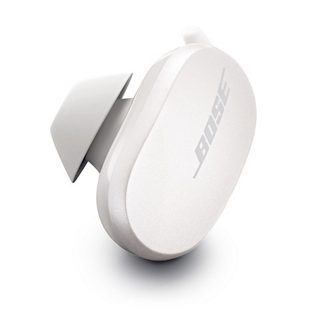 The second you take out an earbud, your content pauses
Microsensors tell the earbuds when they're in your ears and when they're not. The instant you take one out, your music, podcast, or video automatically pauses so you don't miss a second.
Customized control
Just by touching the earbud, you can toggle between three customizable noise cancelling levels, play or pause content, take calls, and more.
But for full control of your QuietComfort® Earbuds, download the Bose Music app. It lets you customize your noise cancellation favorites, manage your Bluetooth connections, set a shortcut, and much more. It also keeps your earbuds' software up to date — and will even unlock new features in the future.